___Next product →
Rocky Shirts Catalog – over 600 different Motifs
$ 12.20 – $ 13.50
min. order: 5 pieces

special order: adding 1-2 weeks shipping time

choose from over 600 motifs (min. 5 pcs)

choose individually from 12 colors

available in S, M, L, XL

100% cotton

high quality print

wash resistant

original ROCKY brand Thailand
Description

Rocky Shirts Catalog
special order from manufacturer: minimum order 5 pieces!
Choose from 12 colors !!!
Available in S, M, L, XL
(adding 1-2 weeks to the shipping time)
Over 600 Motifs available:
When purchasing a minimum of only 5 shirts from the Rocky Shirts Catalog, we can individually order any motif (in any color and size) extra for you!
The 5 (or more) shirts can be totally mixed (different motifs, colors, sizes).
How to place an order:
Click on the catalog-pages (scroll down) to open them in a new window, click again to enlarge the view. Make your choice and write down the 3-digit motif number (you find the motiv number under every image).
Select the size and amount of shirts (here, on the Rocky Shirts Catalog main page) and add it to your cart. If you wish to order different sizes, please repeat this step for every size.
During the Checkout, you can write a note to us. There, please specify your choice by giving us: the 3-digit motif-numbers, colors and sizes for every single shirt! (To avoid mistakes, you can also give every motifs a title/description.)
Rocky T Shirts:
The shirts are of good Quality and made of 100% cotton, non-chlorine bleached and fit for washing machine (cold recommended). The print-images are durable, not too stiff, and of good quality – they don't come off nor wash out.
Measures (approx.):
S – A = 18 inch / 46 cm B = 26 inch / 66 cm
​​​​​​​M – A = 20 inch / 51 cm B = 28 inch / 71 cm
L – A = 22 inch / 56 cm B = 30 inch / 76 cm
XL – A = 24 inch / 61 cm B = 32 inch / 81 cm
Please note:
Size labels like S, M, L, XL are but arbitrary assignments.
Please compare the given dimensions according to the picture with a fitting Shirt of your wardrobe.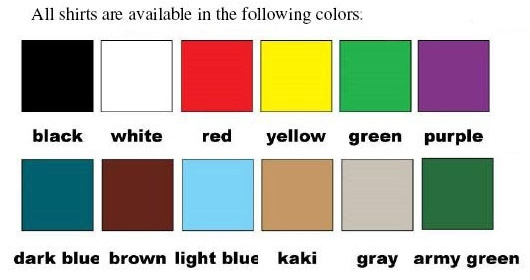 Underneath you see examples for all 12 available colors. Please understand that colors can be displayed quite differently depending on monitors, displays, settings, light, …
Also be aware that with a different shirt color the print color might change as well (e.g. black on white will become white on black, etc).
We only sell original ROCKY shirts from Thailand!
Only logged in customers who have purchased this product may leave a review.
___Next product →