Description
Long Thai Elephant Pants – Blue

4 Colors: Blue Black Cream White
Elephant Pants seem to be the no. 1 best selling garment in Thailand. Tourists, locals, Asians, Westerners, … Everywhere you look, you will see some people wearing these super comfortable and always nice looking pants.
This is our Elephant Pants Blue long model with 4 colors.
They have an elastic waistband with a drawstring to keep them in place, 1 front pocket on the right side and elastic cuffs.
   Style: Thai Leisure Pants
The style of these pants comes from southeast Asian countries such as Thailand or India and is characterized by its loose fit and made of lightweight and breathable material. They have beautiful elephant patterns (hence the name) and are available in various colors and tints.

Elephant pants are unisex and usually worn by men and women alike.
   Material:
Our Thai Elephant Pants are made of 100% rayon fabric – very light, thin, breathable and super comfortable.
   Size:
Elephant Pants are usually available in only one size (free-size), but every model may differ from each other (depending on its manufacturer). So please always check our given dimensions: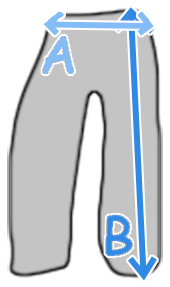 Measurements (approx.):
A (width) = 11.5-18 inch / 30-45 cm (stretchable)
B (length) = 41 inch / 105 cm
Weight = 160 g