← Previous product___.
___Next product →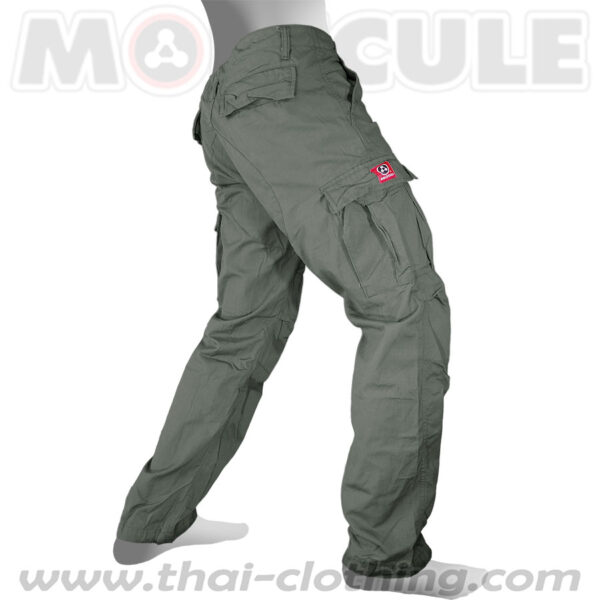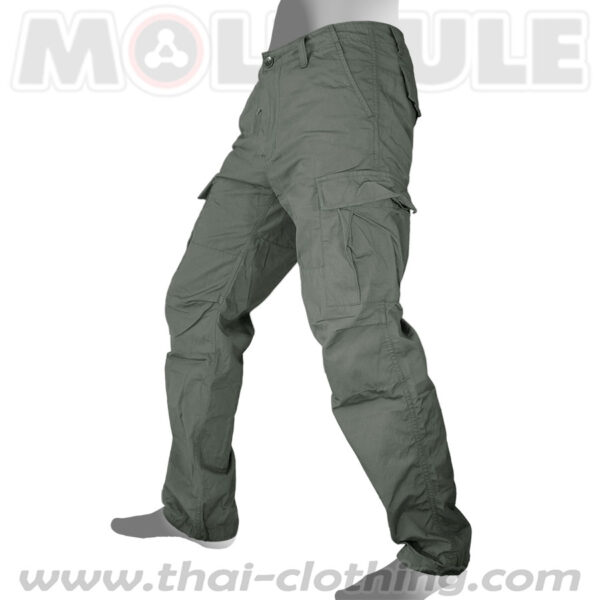 Voyager Molecule Pants Green Ripstop
The 55003 model, here in safari green is made of ripstop fabric (100% cotton) with a tighter cut compared to other Molecule models. 
Caution: This model turns out smaller than other Molecule models. Please check the given measurements (scroll down), it's possible that you need to pick a size bigger than usual!
RIPSTOP fabric is thinner and lighter than the typical Molecule heavy cotton but provides high resilience and durability due to special reinforcement threats interwoven horizontally which become visible only when taking a closer look.
This Voyager model has got a total of 6 pockets, 4 of which have flaps with iron buttons.
You can store and carry around a huge amount of things in these pants and even bigger things like a book or a camera in the two side cargo pockets, so you actually hardly need a bag with these trousers.
In detail there are
2 front pockets

2 huge cargo pockets with flap + buttons

2 rear pockets with flap + buttons
Due to the convenient inner waistband drawstring you don`t even need a belt.
Voyager Molecule Pants GREEN – Sizes / Measurements:
Standard sizes like S, M, L, XL can turn out very differently, so please check the given dimensions before you order!
Simply lay a well fitting pair of pants flat on the floor and compare the specific measurements:
Measurements Molecule VOYAGER / 55003
size

A) flat belt / waist

B) length (inseam)

C) total length (outseam)

15,5 inch / 39-40 cm

30 inch / 76 cm

39,5 inch / 100 cm

16,5-17 inch / 42-43 cm

30,5 inch / 77 cm

39,5-40 inch / 101-102 cm

17,5 inch / 44 cm

30,5 inch / 78 cm

41-41,5 inch / 104-105 cm

18-18,5 inch / 46-47 cm

31 inch / 79 cm

41,5 inch / 105-106 cm
All measurements are approximate and may differ marginally!
We offer this Molecule Backpacker model in the following colors:
And it is also available in short:
(click in the images to go to each product page)

Quick-link to all our LONG Molecule cargo pants (click here)
Quick-link to all our SHORT Molecule cargo pants (click here)
Molecule Cargo Pants
Molecule cargo trousers are high quality pants, made of a solid and resilient cotton (100%) very well processed with firm seams. Your Molecule pants will be your best friend on voyages, travels, holidays, trips but also shopping tours or in leisure activities, on parties, festivals, … They will never abandon you!
All Molecule pants are easy to handle, washing machine friendly (60°) and no ironing necessary, because the fabric decreases itself when wearing.
We only buy and sell ORIGINAL Molecule Pants, bought directly from the manufacturer.
Only logged in customers who have purchased this product may leave a review.
← Previous product___.
___Next product →