← Previous product___.
___Next product →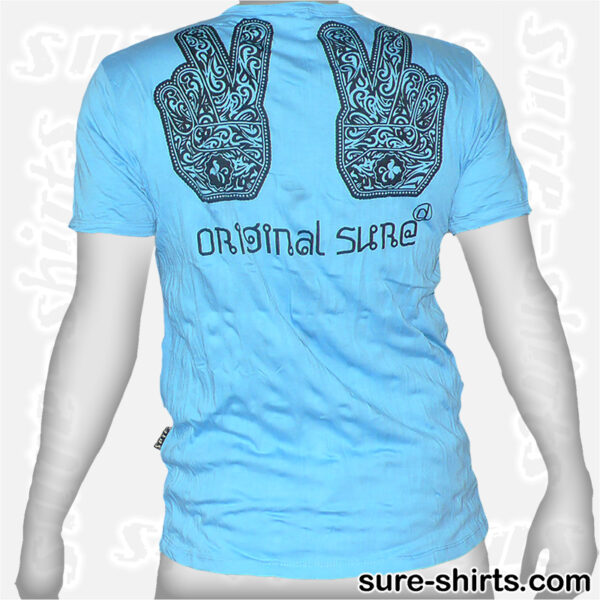 Victory / Piece Sign
Light Blue SURE T Shirt size M
   Motif: Victory / Piece Sign Tribal
The V sign (middle and index finger raised and parted and the palm facing away from the body) means either peace or victory. Nowadays young people often arbitrarily use it when taking photos. Most people don't know though that in Asia specifically in Japan this sign got viral during the 1972 Olympics in Japan. Janet Lynn, the gold medal favorite for figure skating, fell during her performance and only got bronze. Instead of being sour she just stood up, smiled and showed the V sign. With that gesture she won over the hearts of millions of spectators. It is believed that this incident made the V sign popular in Asia especially in Japan.
   Sure T Shirt size M:
Nice tribal image of the Victory or peace sign on a light blue colored shirt.

Measures (approx.):
A = 20,5 inch / 52 cm
B = 28,5 inch / 70 cm
   Please note:
Size labels like S, M, L, XL are but arbitrary assignments.
All Sure shirts' measurements can differ from model to model, motif to motif and even color to color (of the same motif)!
We try our best to give accurate dimensions for every single shirt.
Please lay your favorite shirt flat on the floor, then compare the dimensions according to the picture and the given dimensions as shown in the image above.
   Read more about:

We only sell original SURE shirts from Thailand!
Only logged in customers who have purchased this product may leave a review.
← Previous product___.
___Next product →