← Previous product___.
SOLD OUT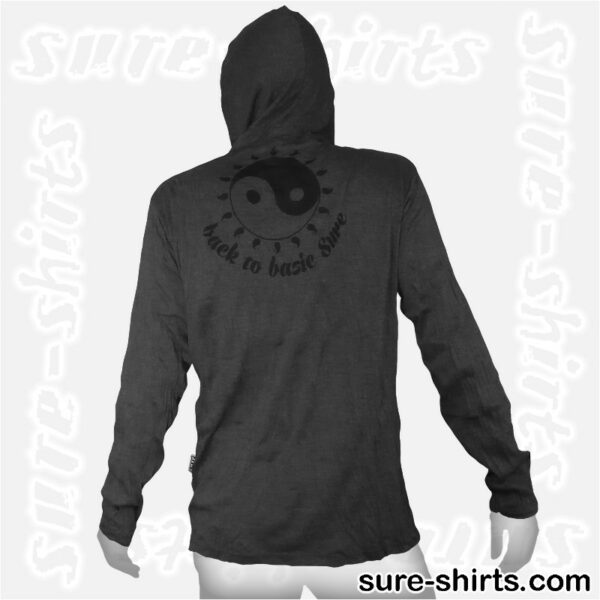 Yin Yang
Black SURE Long Sleeve Hoodie size L
   Motif: Yin Yang
Yin & Yang is a fundamental concept in Chinese philosophy and dates back to at least the 3rd century BCE. It's the concept of duality and inseparability of contradictory opposites such as night and day, female and male, old and young, … Each part needs balance from its opposite part to achieve harmony. Increase by one means decrease by the other and both parts have in its core an element of the other.
Yin elements are: feminine, black, dark, north, water (transformation), passive, moon (weakness and the goddess Changxi), earth, cold, old, even numbers, valleys, poor, soft, and provides spirit to all things
Yang elements are: masculine, white, light, south, fire (creativity), active, sun (strength and the god Xihe), heaven, warm, young, odd numbers, mountains, rich, hard, and provides form to all things. On this T shirt Yin Yang symbols in different sizes building a sun.
   Sure Long Sleeve Hoodie size L:
Super cool image on a black colored long sleeve Hoodie.

Measures (approx.):
A = 21 inch / 53 cm
B = 28 inch / 71 cm
   Please note:
Size labels like S, M, L, XL are but arbitrary assignments.
All Sure shirts' measurements can differ from model to model, motif to motif and even color to color (of the same motif)!
We try our best to give accurate dimensions for every single shirt.
Please lay your favorite shirt flat on the floor, then compare the dimensions according to the picture and the given dimensions as shown in the image above.
   Read more about:

We only sell original SURE shirts from Thailand!
Only logged in customers who have purchased this product may leave a review.
← Previous product___.